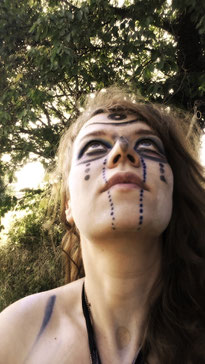 I AM WHAT I AM.
I AM THE LOVING MOTHER OF CREATION.
I AM THE DARKNESS, WHO KEEPS THE LIGHT.
I AM THE QUEEN OF THE OUTLAWS.
I AM THE DESTROYER OF ALL ILLUSIONS.
I AM THE BIGGEST FEAR OF MAYA.
I AM THE DAUGHTER OF JESUS, WHO CRUZIFIES YOUR MIND.
IN ECSTASY OF ONENESS, CREATION WAS BORN.
I AM THE SERPANT, WHO DANCES THE UNIVERSE, THE STARS AND THE MOON.
I AM DANCING.
DANCING WITH THE ONE.
BECOMING THE ONE.
AND LOVE IS SITTING IN A RING OF FIRE.
DEEPLY GROUNDED IN THE NOTHINGNESS OF PEACE.
Bild und Text by Sarah Antonia Schneider